Repair Multiple Dental Problems With Full-Mouth Reconstructions
If you think your teeth have too many problems to be fixed, you're not alone. Your teeth are made to take a beating, but over time, even something as strong as your teeth can show signs of wear and tear. And such signs can quickly turn into serious damage or even lost teeth. At DeJesus Dental Group, both our Bridgeport/Trumbull Line and Shelton locations offer full-mouth reconstruction. To schedule your full-mouth reconstruction Bridgeport, CT area call 203-372-1220 or 203-378-9737 for full-mouth reconstruction Shelton, CT area.
What Is A Full-Mouth Reconstruction?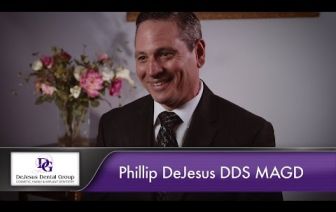 For a full mouth reconstruction to be required, you'll need to have multiple issues, that would be hard to fix individually.. You could have one or more cracked teeth, requiring dental crowns to keep them strong and useful. But you could also have missing teeth, which requires a whole different set of treatments. Rather than just picking one treatment and going with that, our dentists at both the Bridgeport/Trumbull Line dental office and Shelton dental office can perform a full-mouth reconstruction. This dental reconstruction plan will address all of the problems and get your teeth back to how they should be.
How Can You Repair A Decayed Tooth?
There are several dental treatments we can use to restore broken teeth back to how they should be. Our tooth-colored fillings can repair cavities, and our dental crowns can seal up damage and keep the tooth strong. Root canals can remove infected pulp and save a tooth. But there are times when a tooth is too damaged to repair, and it's best to remove it and find replace it with a cosmetic option, like a dental implant or bridge.
Are Dental Implants Worth Getting?
If you are missing one or two teeth, you could get a dental bridge to hold a replacement tooth in that space. But as long as the bone beneath the empty space is healthy, dental implants are often a better choice. In this treatment, our dentists will implant a titanium root into your jawbone. Then a replacement tooth is attached using an abutment. This gives you an attractive, functional replacement for the missing tooth, and by using an artificial root, we can give you a long-lasting, strong replacement. We can even use four or six implants to hold onto a full arch of replacement teeth.
Why Do Some People Choose Mini Dental Implants?
In order for a dental implant to stay rooted safely in your jaw, your jawbone needs to be healthy. If that part of your jaw has gone without a tooth for too long, the bone might have deteriorated to the point where implanting a titanium root either won't work or could even hurt your jaw. Even if your jawbone is perfectly healthy, some people just have naturally thin jaws, making a regular dental implant too risky. Instead, we can often use mini dental implants. We will still implant a titanium root, but the root itself is much thinner, meaning we don't need as much healthy bone tissue to hold onto it.
Are Dentures Still Something People Can Get?
Dentures are still very much in use. Not only do they work great to replace a full arch of teeth on the top or bottom of your mouth, but new advances in dentistry mean they are much less likely to move around in your mouth. We can offer full dentures (which use adhesive and suction to hold onto your gums) and partial dentures (which replace only a few teeth in a row and are held on by clasps attached to your existing teeth). But to really secure them, we offer implant-supported dentures that attach to dental implants.
If your teeth are damaged or missing, our full-mouth reconstructions can restore your smile so it's back to its old self again. For more information about full-mouth reconstructions, or to make your next appointment, call today at 203-372-1220 for full-mouth reconstruction Bridgeport, CT area and 203-378-9737 for full-mouth reconstruction Shelton, CT area appointment. You can also use our convenient online form to contact either location.