FREQUENTLY ASKED QUESTIONS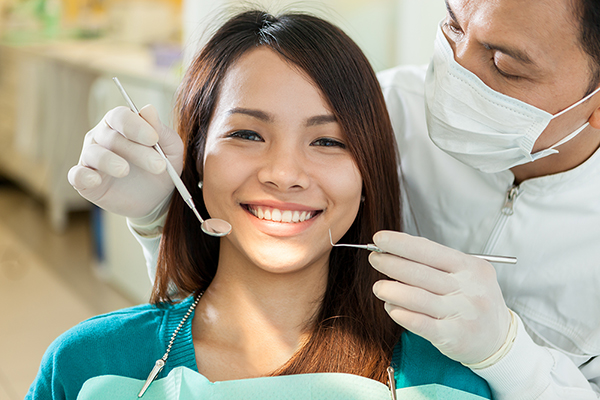 Treatments & Material
What is your approach when it comes to dentistry?
We are proactive and like to take care of dental disease as we find it in order to keep it from spreading and causing more damage. Our doctors are highly trained on different types of treatments that will help you save your natural teeth.
Do you offer sedation, gas or IV therapy?
Yes, we offer nitrous oxide (laughing gas) and sedation, but it is conscious sedation. We do not provide IV therapy; however our doctors are well trained in dealing with anxious patients that such measures are rarely needed.
Are dental x-rays safe?
Yes they are. You get more radiation from the sun than a dental x-ray.
What kind of material do you use for fillings?
We use resin composite, which are the teeth colored fillings that blend seamlessly with the rest of your teeth and it expands or contracts at the same rate as your teeth when temperatures change.
Do you perform oral surgery in your office?
Even though we are not oral surgeons, we are highly trained on performing several procedures that would be categorized as oral surgery.
Can I get one or more implants at your office?
Our doctors are highly trained on placing implants.
Do you do mini-implants?
We place several types of implants in our office, mini implants is one of them.
What if I wanted to restore my mouth with implants?
We can offer many options when it comes to restoring your mouth with dental implants, from single implants, to mini implants or dentures supported by implants. It all depends on your specific case and we will create a custom plan that works just for you.
Appointment Information
When should I arrive for my appointment?
As a new patient you should always arrive 15 minutes before the appointment in order to fill out the new patient paperwork.
What should I bring to my first appointment?
For the first appointment you should have your dental insurance card and a driver's license or photo ID.
Can I fill out the paperwork in advance?
Paperwork can be filled out in advance online and emailed to us or printed. The paperwork can be found under the new patient tab on our website.
Accessibility & Availability
Are either of your dental offices open on Saturday?
The Bridgeport office is open one Saturday a month for patients of record.
Do you take walk in appointments?
We do not take walk in appointments for same day non emergency dental services. However, there have been times where patients are in pain and we have availability to see them. Additionally, we may also be able to accommodate a new patient due to cancelation. 
What if I have a dental emergency?
Emergencies happen all the time and we are well equipped with handling emergencies and getting them in as soon as possible.
Can patients from the Shelton office visit the Bridgeport office and vice versa?
At the moment the two offices are not merged, so patients have to pick one office to stay in. If necessary, arrangements can be made for a patient to be moved from one location to the other.
What age can I bring my child in for an appointment?
We recommend bringing your child in for his first visit when the first tooth comes in or as soon as the child turns one.
Are you accepting new patients?
We are always accepting new patients.
Are your offices accessible to patients with disabilities?
Both offices are accessible to patients with disabilities. Bridgeport has a ramp and Shelton is on the first floor.
I am or may be pregnant; can I still come for regular cleanings?
Getting regular cleanings during your pregnancy will actually benefit you and your baby's health. Depending on how far along you are we will need clearance from your OBGYN, but that is a simple phone call away that one of our staff members can make before your appointment.
Payment
How much will the first visit going to cost?
If you have insurance and you are coming in for a cleaning we usually send the claim out to insurance and wait to see if and how much they cover. If you are uninsured and are interested in a cleaning we have a new patient special of $98 that includes the cleaning, full mouth of digital x-rays and a consultation with the doctors. If you are insured coming in for an emergency and want to do the treatment on that same day, we call your insurance and let you know what your approximate copay for the treatment will be prior to doing it. If you are not insured we will help you figure out the best and easiest way to pay for the treatment needed.
What form of payment do you accept?
We accept all forms of payment, cash, check, credit cards and CareCredit.
Do you offer dental financing?
We have a few types of financing for dental treatment such as CareCredit and LendingClub.
Are payment plans available for dental work?
Yes we have financing companies that can help you pay for the necessary treatment in a way that will not hurt your pocket.
What insurance do you accept?
We accept most dental insurances.
What insurance carriers do you participate with?
We participate with Cigna PPO, MetLife PPO and Delta Dental PPO
Do you accept Medicare/Medicaid?
We do not participate with Medicare/Medicaid, however there are some dental supplements that people that have Medicare/ Medicaid use that we do accept. Our advice is to call and give us the information and we can let you know about your specific case.
Still have questions?
We are happy to answer them all.
Use our convenient online form to contact us with any additional questions you may have.  We look forward to hearing from you.
More reasons to smile back
What Are You Waiting For?
BRIDGEPORT/TRUMBULL LINE
4131 MAIN ST, BRIDGEPORT, CT 06606
SHELTON
770 RIVER RD SHELTON, CT 06484