Repair Damaged Or Missing Teeth With Dental Crowns & Bridges
How Can Dental Crowns Save Damaged Teeth?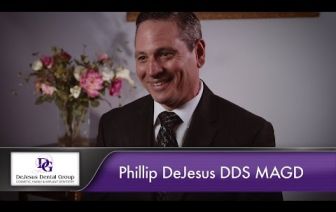 If a tooth has a small amount of damage, such as a smaller cavity or tiny chip, we have dental treatments that can fix both (such as a tooth-colored filling or tooth contouring). But there are times when the damage is too severe for such treatments. For example, there's only so much enamel we can remove and replace with filling material before the tooth gets so weak that it's ready to break.
To help in these cases, we can offer dental crowns from our Bridgeport/Trumbull Line or Shelton dental offices. Dental Crowns are tooth-shaped covers that fit over your damaged tooth. The dental crown holds the tooth tightly together, but it also seals up any damaged area while providing the same strength and durability as enamel. The dental crown helps to make sure the tooth does not break, or suffer any further damage.
How Are Crowns Used To Help Replace Missing Teeth
If you have a missing tooth, you should get a replacement as soon as possible so you can chew normally, and have confidence in your smile. Dental implants are a great way to fill that space, but not everyone can have them surgically implanted in the jawbone. Doing so requires oral surgery, which not everyone is healthy enough to tolerate. Also, your jaw needs to be thick and healthy enough to safely hold onto the implant. If your jaw is just naturally thin, or if your bone tissue under the gap has deteriorated because the tooth has been missing for so long, a dental implant could fail.
Instead, a pair of dental crowns can hold onto a replacement tooth with a treatment called a >dental bridge. This fills the space with a natural-looking replacement tooth attached to the crowns, which are bonded onto your teeth. This means you replace the missing tooth without any oral surgery. This is the perfect tooth replacement option for those who are not suited to regular dental implants.
What Type Of Material Is Used To Make Dental Crowns and Bridges
At DeJesus Dental Group, we can make our dental crowns and dental bridges out of several different materials.
Porcelain fused to metal (PFM) uses a metal (sometimes gold) covered by a tooth-colored porcelain. It is incredibly strong and great for teeth that are damaged and need a tough protective covering. However, it requires removing a little enamel to fit normally.
E.max is a special type of ceramic that will be strong and look great in your smile. It's less likely to be chipped than zirconia, but it is more expensive.
Zirconia crowns are a type of ceramic as well. They are translucent just like real enamel and are very strong. However, zirconia is so strong that it potentially could hurt your natural teeth.
Regardless of what material is used, the dentists at our Bridgeport/Trumbull Line or Shelton locations can use dental crowns or dental bridges to repair damaged teeth and replace missing ones. For more information about dental crowns and bridges, or to make your next appointment, call today at 203-372-1220 for Bridgeport/Trumbull Line or 203-378-9737 for Shelton. You can also use our convenient online form to contact either location.